Hot Tub Cover
After years of extensive product testing the

 Hot Tub Cover is now available. The first hot tub cover of its kind features a Dual Bladder, Drop Stitch Construction (think standup paddleboards) and supports over 500 pounds. The

will not absorb water over time and provides consistent and superior insulation along with increased durability. The future of hot tub covers has arrived. UPS/FedEx shippable.
Dual Bladder, Drop Stitch Construction supports over 500 pounds
WeatherShield canvas is standard (say goodbye to cracked vinyl)
Will never absorb water
Includes pump and branded duffle
Available in 3 colors
Available in 3 sizes

86″ x 86″
89″ x 89″
94″ x 94″
U.S. Patent #9,127,471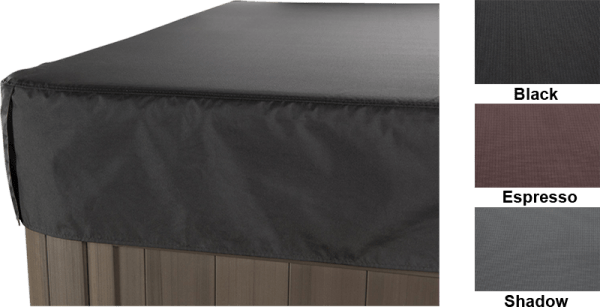 We worked with numerous cover manufacturers and found that these 3 sizes comprise the majority (over 70%) of the replacement cover market.
Most, if not all hot tub covers ultimately need to be replaced because they begin to absorb water.  Once that starts to happen the cover not only becomes heavier but also a much less effective insulator.  The

will never absorb water and offers peace of mind from frequent cover replacements and relief from increasing electric bills.  Additionally, the

is fitted with our WeatherShield canvas as a standard, which gives the cover a modern look and feel while protecting the color from fading in the sun.  The available 3 sizes work for a surprising number of customers that are looking for a replacement hot tub cover and are all too familiar with the longevity that traditional hot tub covers fail to provide.
U.S. Patent #9,127,471