All-Aluminum Louvered Pergola
Available in 10'x10′ or 10'x13′ with White or Charcoal Finish
Sleek Modern Design, Durable Finish
Easily Adjusts for Sun & Shade, Protects from Rain
Creates distinguished outdoor living spaces
The SHaDE All-Aluminum Louvered Pergola is the pinnacle of modern design and functionality, creating distinguished outdoor living spaces. The adjustable louvered pergola design allows you to utilize your outdoor space, rain or shine. You control the amount of sunlight you want with our premium ergonomically designed louver wand. When closed, the roof is entirely waterproof and drains to the side. Whether you are covering a seating area, hot tub, barbeque grill or any other outdoor area, the All Aluminum Louvered Pergola is the perfect choice. Available in 10'x10′ or 10'x13′ with White or Charcoal powder coated finishes.
Powder coated aluminum is tough and weatherproof, providing years of  protection against chipping, wear and the elements
Stainless steel hardware resists rust and corrosion
Available in contemporary White or Charcoal colors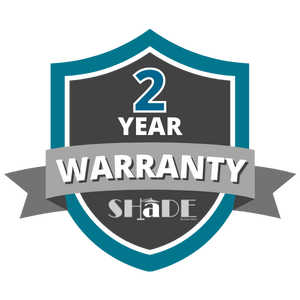 The All-Aluminum Louvered Pergolas are backed by a two-year warranty. Warranties are valid from the date of purchase to the original purchaser only.