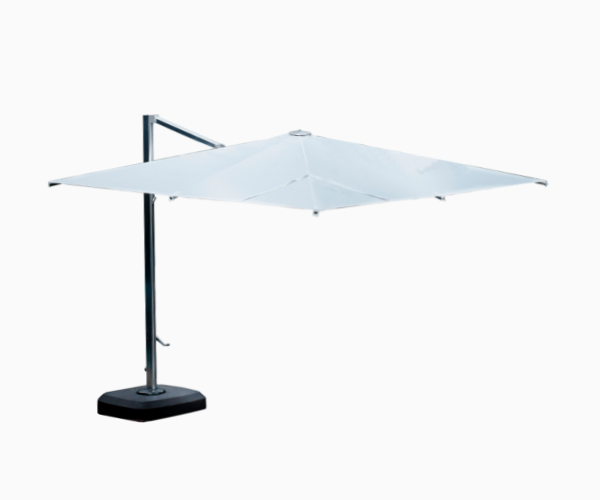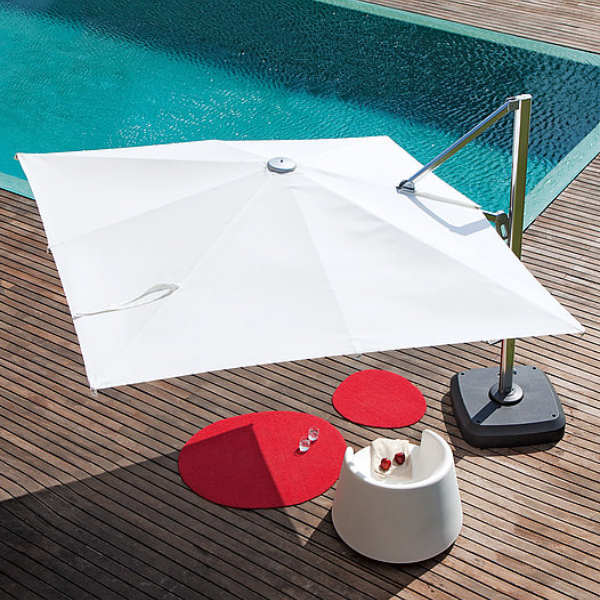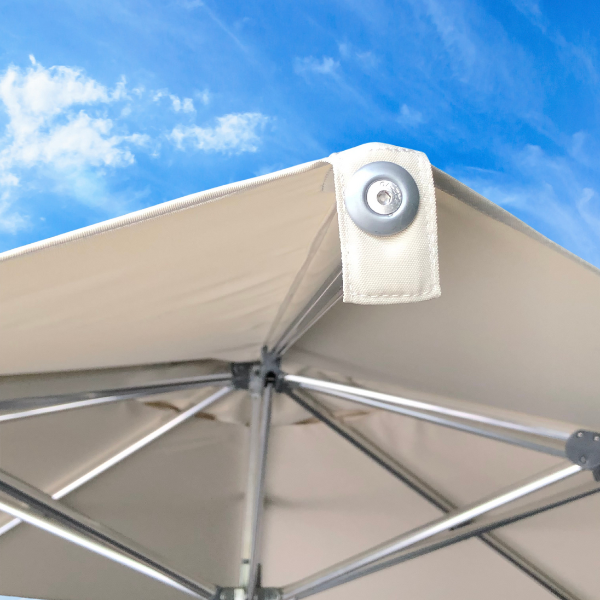 10'x10' Square Deluxe Cantilever Umbrella
The SHaDE® 10'x10' Square Deluxe Cantilever Umbrella is the pinnacle of modern design and functionality. Designed to provide ample shade for any outdoor space, our cantilever umbrella can be easily tilted in any direction and rotates 360º to ensure it provides you the coverage you want for any outdoor space. It was also created to stand the test of time. The SHaDE® 10'x10' Square Deluxe Cantilever Umbrella sports a heavy-duty aluminum oval frame and rivets, stainless steel nuts and bolts where others would use a weaker pop riveted construction, and extra fabric sewn on the edge of the canopy to prevent ripping.
Heavy-duty construction, featherlike movement
Easy-turn crank handle to raise and lower the canopy
Heavy-duty tilt mechanism that glides easily
5 position pistol grip tilt mechanism securely locks canopy at the angle you want
Crank handle doubles as canopy lift handle
Lift handle allows umbrella to freely rotate 360º without having to move the base
Thick aluminum construction
Polished aluminum finish
Stainless steel nuts & bolts
Durable Sunbrella fabric canopy
All parts of the umbrella are serviceable
Easy to ship and easy to assemble
Canopy is made from durable solution dyed acrylic fabric
Acrylic fabric is fade, tear and stain resistant
– 5 year no-fade warranty on Sunbrella Fabrics
– 6 year no-fade warranty on Pengi Marine Grade fabrics
Solution dyed fibers are saturated to the core with highly UV-stable pigments, making these fabrics resistant to fading and the degrading effects of sunlight.
Quadruple reinforced corner tabs to protect from ripped seams.
All SHaDE fabrics can be easily and safely cleaned with household cleaning products.
High quality • Modern design • Elegant functionality
We can confidently say that the craftsmanship, style and functionality of our cantilever umbrella is unmatched by any other umbrella in its category. It is simple to assemble, tilt, rotate, and move. The 10′ Cantilever Umbrella is always in stock with a full variety of frame finishes fabric colors, eliminating 4-6 week lead times typical of other manufacturers.