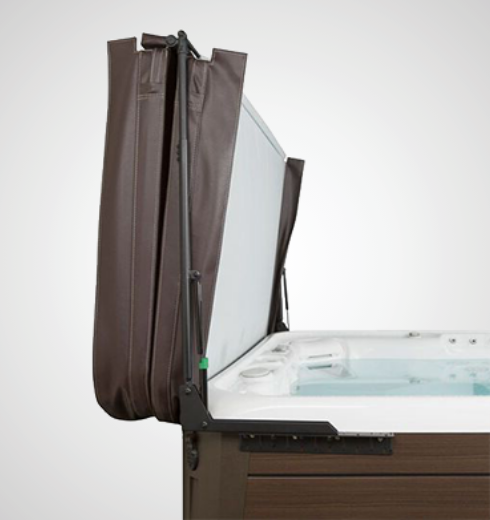 A good hot tub cover can weigh anywhere from 50 to 75 pounds, not to say how heavy it can get while absorbing all the vapor. What you need is a hot tub cover lifter.
Let's quickly check some of the advantages of owning a hot tub cover lifter:
Greatly reduced risks of back injuries
Quicker process of cleaning and treating your spa
Keeps your cover in good shape
What Is the Best Spa Cover Lifter?
I chose Cover Valet NP509 Spa Cover Lift and Caddy,Black. For me, and I think this is the case with many other people, I want my lifter to be easy to lift, so it is actually doing its job, instead of me doing it.
The next thing is that I don't have a lot of space around the hot tub so my cover lifter should require minimum space in order to function.
Finally, it should be relatively affordable to get a cover lifter since I have a certain budget that I am ready to spend.
"This is my best pick for your hot tubs since it honestly has everything you need, it is durable, pricing is just right and can fit any square or rectangular shape."
"Cover Valet NP509 Spa Cover Lift is by far the best hot tub cover lifter you can get."
Cover Valet & Cover Caddy
(HIGHLY RECOMMENDED FOR SQUARE SHAPES)
To ensure the effortless operation of your spa, this Valet NP509 hot tub cover lift is made of high-quality aluminum to eliminate any possibility of rust and corrosion while keeping it light.
It is a manual hot tub cover lifter equipped with a pivot style so that it can be mounted at the floor level. The side on which it is stored must have a space of about 4 feet to fold it back.
Ensure you have enough space around your hot tub to handle the lifter.
New undermount-cabinet design works with all spas.
Gas spring assisted for effortless spa cover removal.
Stores cover conveniently to the side of your spa.
Adjustable – raises or lowers spa cover when stored.
Constructed of high-grade powder-coated aluminum.
Complete installation within minutes